Red Army on the move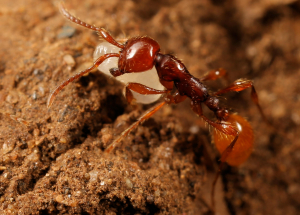 Observation - Red Army on the move - Southern Africa. Description: At a glance, this fast moving ant trail looked like Driver Ants carrying their brood. The photographs revealed something else: The workers were all of similar size and build, about 3.6 to max 3.8mm. The pupae and larvae they were carrying seemd too la
At a glance, this fast moving ant trail looked like Driver Ants carrying their brood. The photographs revealed something else:
The workers were all of similar size and build, about 3.6 to max 3.8mm.

The pupae and larvae they were carrying seemd too large to be their own and they didn't exercise much tenderness in effecting the transfer. Pupae were punctured and larvae were cut into pieces. Hence, I suggest this is the return of a raiding party rather than an emigration.

The 7m long exposed part of the well-trampled trail led from thick undergrowth over a human footpath to an 8-9mm diameter opening in the soil. The spoils were being transported to this entrance. There was no excavation debris around the entrance and about 5 ants appeared to be guarding the entrance, occasionally moving pebbles and other obstacles out of the way of the returning workers.

The trail was unbranched. About 90% of the workers were moving in the direction of the colony entrance, the other 10% were moving upstream without luggage, presumably to go fetch more loot. At an estimated average of 3 workers per cm of trail, the 7m section contained more than 2 000 ants. The brisk, mostly one-way movement continued for more than 30 minutes. Hence, I suggest the colony size to number in the 10's of thousands.

Once all had passed through the nest entrance, it was closed up and only the trodden trail remained as evidence of their passing. This happen between 9 and 10am on a cool. cloudy day.
Main navigation