Kleinmond Leucadendron flower baggies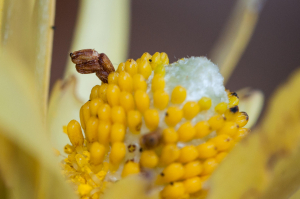 Observation - Kleinmond Leucadendron flower baggies - Southern Africa. Description: 10 Sept 2015 Collected Leucadendron sp. as foodplant for something else and discovered two tiny bagworms walking around on a flowerhead. 15 Sept 2015 Collected two more individuals on the same species in the same location. 18
10 Sept 2015
Collected Leucadendron sp. as foodplant for something else and discovered two tiny bagworms walking around on a flowerhead.

15 Sept 2015
Collected two more individuals on the same species in the same location.

18 Sept 2015
Collected three more individuals, same species, same location.

~ Oct 2015
It is hard to know with bagworms when pupation occurs as they often go immobile for a few days and then start up again. These 7 bagwormies eventually all stopped moving and feeding, so I'm just checking them every day to see if anything emerges.
Main navigation