House Snake ambushes a feeding Mannikin Finch from a burrow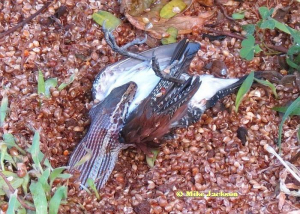 Observation - House Snake ambushes a feeding Mannikin Finch from a burrow - Southern Africa. Description: We noticed one of the finches feeding on the ground at our feeding station was in a spot of trouble. We thought it was having a fit! On closer inspection, I noticed its head was down a hole in the ground, and gave a light tug on the birds tail to see wha
We noticed one of the finches feeding on the ground at our feeding station was in a spot of trouble. We thought it was having a fit!
On closer inspection, I noticed its head was down a hole in the ground, and gave a light tug on the birds tail to see what was wrong,
but was met with some resistance and a tug down the hole!
It was then I saw the snakes mouth around it's head. The snake was completely underground. Over the next minute or so, the snake had to come out
slowly as it tried to ingest the whole bird. It eventually had most of the bird in it's gullet and then left the burrow and escaped with it's prey.
Main navigation