The Ugly Duckling Conebush: Wolseley Conebush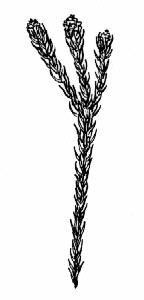 Observation - The Ugly Duckling Conebush: Wolseley Conebush - Southern Africa. Description: Wolseley Conebush Leucadendron spirale This Conebush is undoubtedly the 'ugly duckling' in the genus. Describing it in 1809, Richard Salisbury - in Knight's book on the cultivaton of proteas - noted that 'cuttings grow freely, but possessing little be
Wolseley Conebush Leucadendron spirale
.
This Conebush is undoubtedly the 'ugly duckling' in the genus. Describing it in 1809, Richard Salisbury - in Knight's book on the cultivaton of proteas - noted that 'cuttings grow freely, but possessing little beauty it should only be admitted in extensive collections'. Indeed, few people would recognise it as a Conebush, as its leaves are small and ericoid, and the fully mature cones, are only 20 mm in diameter.
.
L. spirale has been collected only four times in the past:
.
* James Niven found it in 1801 at the Breede River;
* Leopold Mund collected it at the same locality in 1819;
* James Bowie gives as his locality the swamps at Soetmelkrivier and Langklooof (but he has a reputation for giving incorrect localities); and
* Alfred Meebold collected it in 1933, describing the locality as 'Wolseley, health, containing only few species, but river ground and swampy ground, few hours only'.
.
As far as is known the plant is extinct, but some populations may still lurk in the Worcester Valley.
If the Breede River and Wolseley localities are correct most of its habitat has probably been ploughed up, but small pockets of plants may still exist.
.
Acknowledgements for drawing: Nicci Page
.
A R1000 Reward of was offered, and posted around Tulbagh, Wolseley and Worcester, between 1995 and 2000 for the finding of confirmed plants - it was never claimed.
.
The plant has needle-like, rough, leaves 4-9mm long. The male flowerheads are 6-8 mm long and do not have floral bracts - they probably liberate clouds of pollen if knocked while flowering. The female plants produce seed-bearing cones: these form hard balls about 20 mm round. It is closely related to the Strawberry Conebush, which has longer leaves, and bigger, red cones. It probably flowers in summer.
Main navigation