Helichrysum stenopterum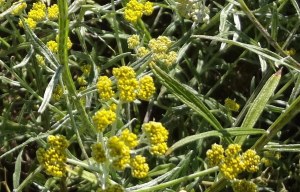 Observation - Helichrysum stenopterum - Southern Africa. Description: Very large sprawling bush, about 50cm high and 1.5m across, thin grey-green leaves felty underneath. Forms tiny bright yellow buds which open to dull brown-tipped flowers that soon burst open fluffy. Has a spicy/curry-like scent. Pictures through the
Very large sprawling bush, about 50cm high and 1.5m across, thin grey-green leaves felty underneath. Forms tiny bright yellow buds which open to dull brown-tipped flowers that soon burst open fluffy.
Fresh plant has a spicy/curry-like scent. Pressing a sample left a lingering sweet perfume.
Pictures through the life cycle are out of sequence: Pic 1 and 2 taken March (mid-life), Pic 3 and 4 April (end of flowering), Pic 5 Feb before buds become yellow.
Main navigation