Millipede Hunter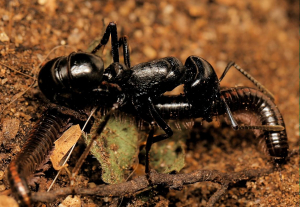 Observation - Millipede Hunter - Southern Africa. Description: Body length about 16mm The millipede is smallish, as millipedes go: About 36mm. The ant was simply along for the ride while I was watching. It seemed to perform a stinging action but I'm not sure these ants have stings? During the 4-5 minutes that I wa
Body length about 16mm
The millipede is smallish, as millipedes go: About 36mm.
The ant was simply along for the ride while I was watching. It seemed to perform a stinging action but I'm not sure these ants have stings?
During the 4-5 minutes that I was there, the ant wouldn't let go and the millipede moved about quite vigorously.
I couldn't stay to witness the outcome but presumably, since these ants are said to be millipede specialists, it had more tricks up its sleeve?
Main navigation