Crazy yellow crazy ant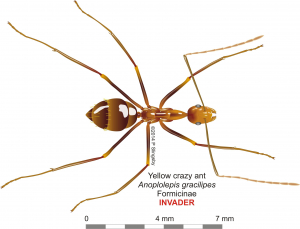 Observation - Crazy yellow crazy ant - Southern Africa. Description: I've put up this extra drawing hoping that it might make it easier to identify this very dangerous invasive species. If you see one please contact us at www.ants.org.za or Alien Detection and Response [see tag]
A very dangerous world-wide invader which has wiped out much of the mini-fauna on many Pacific Islands and severely impacted agriculture; they frequently nest in shipping containers and spread around the world to coastal areas in this way. Recently we could no longer find them at Kalk Bay, which suggests that they might be eliminated by Argentine ants. Uniquely amongst all ants, they are able to attack and eat frozen foods. If you see one please contact us at www.ants.org.za or Alien Early Detection and Rapid Response [see tag]
Apologies if you have read this before; this is only an edit of my obs of 27 October 2014, but iSpot Global insists on recording it as added on 8th Dec [date of editing].
We need a way around this, please.
Main navigation