Harpactirella (Lesser baboon spider)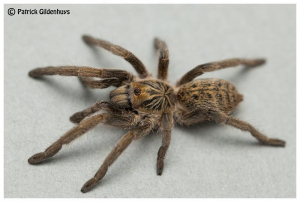 Observation - Harpactirella (Lesser baboon spider) - Southern Africa. Description: A small species, 3-5cm diagonal legspan in adults. Brown, to slightly orange overall, with a typical fishbone pattern on the abdomen dorsally. Copper coloured sheen in freshly moulted specimens. Striking starburst pattern on the carapace. Carapace slig
A small species, 3-5cm diagonal legspan in adults.
Brown, to slightly orange overall, with a typical fishbone pattern on the abdomen dorsally. Copper coloured sheen in freshly moulted specimens.
Striking starburst pattern on the carapace.
Carapace slightly elongated, not symmetrically round.
No stridulating setae on the inside or outside faces of the chelicerae.
Main navigation