Honey badger orphaned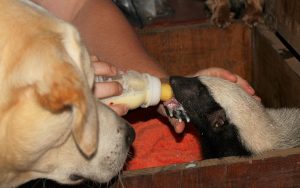 Observation - Honey badger orphaned - Southern Africa. Description: Found abandoned, dehydrated and starving in the veld along a vehicle track where we often see honey badger activity. The workers report that they'd been charged by an adult in the same spot three days prior. We searched the area for an adult, but it seem
Found abandoned, dehydrated and starving in the veld along a vehicle track where we often see honey badger activity. The workers report that they'd been charged by an adult in the same spot three days prior. We searched the area for an adult, but it seems that some unknown tragedy may have befallen the mother. We could not even find fresh spoor. iSPotter, Maritza, got the pup to take to the bottle within minutes. A diet of eggs, milk, honey and then chicken meat soon had it on its feet, treating us to a violent display of honey badger diarrhea. Now, 48 hours after we met, its stomach has settled down and so has our nausea. It loves chicken necks, cracking the bone with its molars. As a treat we give it some honey which it loves.

A brave little soldier, now physiologically fully recovered, but looking sad and not responding to affection by dogs or people. It is not frightened of people and takes food from the hand. It also allows us to carry it by the scruff of its neck into the garden, where it obligingly does its potty.

The trick now, is to prepare it for release without it becoming domesticated. I see trouble ahead.
Main navigation