caught in the act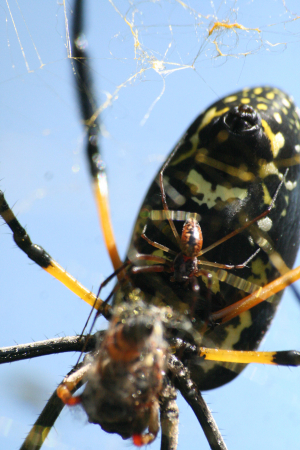 Observation - caught in the act - Southern Africa. Description: this spider is living in the bush behind the house, as she has grown she has moved her web completely 1 m to the side and from then on just daily modifications. At one point she had a magnificent orb web about 75cm diameter but over the past 2 weeks as sh
this spider is living in the bush behind the house, as she has grown she has moved her web completely 1 m to the side and from then on just daily modifications. At one point she had a magnificent orb web about 75cm diameter but over the past 2 weeks as she has got fatter and fatter she has allowed the web to deteriorate, the supporting structures have been strengthened but the orb is now a tatty 25cm diameter. There have been 3 or 4 attendant males hanging around.
The female has developed a taste for bees and races after them with enthusiasm but other insects such as the fly that died by strangulation and the butterfly which was trapped were ignored.

When dealing with a bee the female has a definite plan of action. Initially she grabs the victim, returns to the centre of the orb with it, bites it, trusses it and then she suspends it below her at the tip of her leg and leaves it there for some minutes before reeling it in again and proceeding to devour it.

On this last occasion the dominant male took the opportunity of closing in while the female was busy consuming her bee and mating occurred. This continued until the meal was finished when the female took cognizance of his presence and swiftly brought a leg in to swipe at him but he was faster and leapt to safety.
Main navigation