The Money Tree in Kalk Bay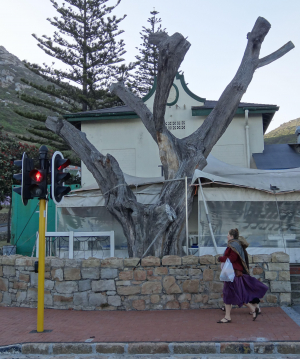 Observation - The Money Tree in Kalk Bay - Southern Africa. Description: Money may not grow on trees, but it often changes hands beneath their branches. In the sleepy fishing village of Kalk Bay in the southern suburbs of Cape Town, the 'Money Tree' (unidentified species) is said to have sheltered countless transactions. In
Money may not grow on trees, but it often changes hands beneath their branches. In the sleepy fishing village of Kalk Bay in the southern suburbs of Cape Town, the 'Money Tree' (unidentified species) is said to have sheltered countless transactions.
In the 1800s, fishing replaced lime as the village's economic staple. After each day at sea, it was under the Money Tree that fishing boat skippers would dispense wages to their crews. Decades of over-fishing have dramatically reduced the size of the local fishing fleet and the Money Tree now hangs rotting by the roadside, devoid of leaves, a skeleton of its former glory.
However, another tree which appears to belong to the same species, survives just 5 m to the north of the Money Tree. To help identify the Money Tree, I have added a couple of photos of the alive sister specimen as well.
Main navigation