Conophytum Pakhuis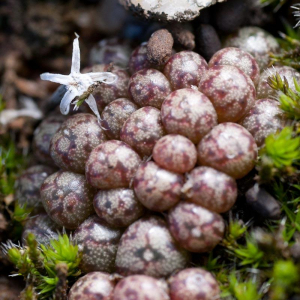 Observation - Conophytum Pakhuis - Southern Africa. Description: Growing among moss and lichens on rocks. Largest plants about 5 mm. Thought I had found a flower but it may be something that had just blown there in the wind as it does not look typical of a cono flower. When crowded together like this what happens when
Growing among moss and lichens on rocks. Largest plants about 5 mm. Thought I had found a flower but it may be something that had just blown there in the wind as it does not look typical of a cono flower.
When crowded together like this what happens when they grow larger?
Also see my ob at http://www.ispot.org.za/node/209934.
Main navigation