Flamingos on Beach kc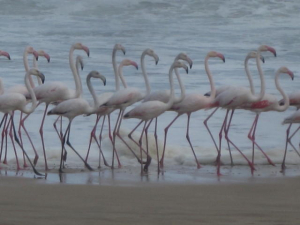 Observation - Flamingos on Beach kc - Southern Africa. Description: Kathryn Cooley took these wonderful pics. She had this to say. We were monitoring the effect of the oil spill and are happy to report that this stretch of beach is very healthy. A blustery but sunny day. The flamingoes were our bonus. This str
Kathryn Cooley took these wonderful pics. She had this to say.
"We were monitoring the effect of the oil spill and are happy to report that this stretch of beach is very healthy. A blustery but sunny day. The flamingoes were our bonus." This stretch of beach is west of Goukamma, between Kleinkrantz and Sedgefield.

The Kiani Satu ran aground off the Southern Cape coast at Goukamma. They managed to float her again about a week later. She has now been towed out to sea about 300 nautical miles away. Meanwhikle the big cleanup of beaches and oiled birds continues.
Main navigation