Sedge understory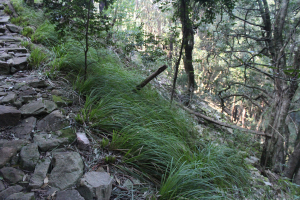 Observation - Sedge understory - Southern Africa. Description: Typical understorey in Afromontane Forest. Any areas of indigneous trees with a Fynbos understory are areas were forest is invading due to lack of fire. SANParks are too scared to burn these slopes despite these triggering their own thresholds of pote
Typical understorey in Afromontane Forest. Any areas of indigneous trees with a Fynbos understory are areas were forest is invading due to lack of fire.
SANParks are too scared to burn these slopes despite these triggering their own thresholds of potential concern in being highly senescent Endangered Fynbos.
But these patches of forest are in fire-safe habitats and would only burn in 1 in 10 to 1 in 100 fires (i.e. once ever 150 to 1500 years). Almost all the plants - trees and this sedge - resprout after these very rare fires: they have the capacity to resprout as they need to respond quickly to gaps in the canopy.
Main navigation