Greywing francolin - Montagu WCape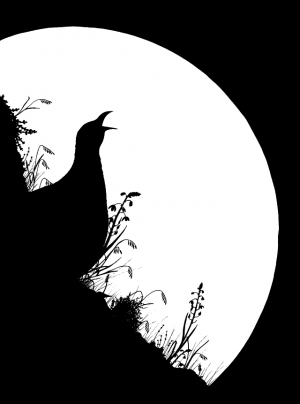 Observation - Greywing francolin - Montagu WCape - Southern Africa. Description: These elusive birds are nonetheless very vocal. I have not yet been able to see them or get a photo, so I have added an illustration I did so the ob doesn't look so boring. Proof of their existence in my back garden can
These elusive birds are nonetheless very vocal. I have not yet been able to see them or get a photo, so I have added an illustration I did so the ob doesn't look so boring. Proof of their existence in my back "garden" can be heard here (mp3). The loud francolin calling at the end of the recording is Cape francolin.

The illustration was done to go with this poem by the inimitable Carol Clark:

Die swart pupil
Dis skemer
in die Keisie –
die sku patrys
sal weer
die eensaamheid en stilte
met sy roep
aksentueer.

Bokant,
soos dit donker word,
begin die sterre riel...
Oombliklik
as ek opkyk
lê dit in
my swart pupil.

U onderskraag
die vaal patrys –
laat draai
die sterrewiel.
In hierdie uur
rig ek op U
die fokus
van my siel.
©Carol Clark
Main navigation