Massonia confusa (or, how Mo became depressed)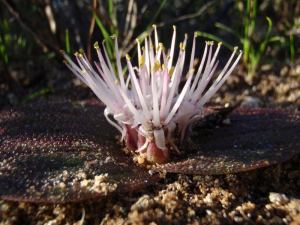 Observation - Massonia confusa (or, how Mo became depressed) - Southern Africa. Description: I start with Manning, and though the pic looks right the distribution looks wrong for M. pustulata. Off to Cape Plants, but find little illumination there. Grub around on iSpot, and find refs to Wetschnig describing how M. pustulata became depressed. (See
I start with Manning, and though the pic looks right the distribution looks wrong for M. pustulata. Off to Cape Plants, but find little illumination there. Grub around on iSpot, and find refs to Wetschnig describing how M. pustulata became depressed. (See http://www.ispot.org.za/node/197332)
Also this: http://bit.ly/19KLN0e
Now I dunno about pustule count or size, but if nothing else seems clear to me, and I don't exactly know what bit is the perigon-filament tube, I do see pink, and no bluish-green. Which would suggest M. longipes. But that ID hasn't been agreed to elsewhere, and there is plenty of support for M. pustulata. So, I defer to those who know better, and retire confused and depressed that after so much time, I have so little clarity!
Main navigation