Crassula smithii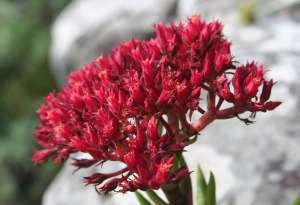 Observation - Crassula smithii. Description: Crassula smithii in the Noodsberg north-west of Durban, KwaZulu-Natal. This plant has superficial similarity to Crassula alba but differs in the thickly fleshy, yellowish complexioned leaves, and in floral aspects. For more information see the description
Crassula smithii in the Noodsberg north-west of Durban, KwaZulu-Natal. This plant has superficial similarity to Crassula alba but differs in the thickly fleshy, yellowish complexioned leaves, and in floral aspects. For more information see the description:

Van Jaarsveld, E., Styles, D.G.A & McDonald, G.J. 2008. Crassula smithii: a new cliff-dwelling species from Noodsberg. KwaZulu-Natal, South Africa. Aloe 45(4): 90-92.

These plants are photographed at the type locality. The species is known from only one other site in the Noodberg, all threatened by development, alien tree invasion, overgrazing and trampling by cattle. Although some plants remain secure because they grow on rock faces, others grow in thin, sandy soils on Natal Group sandstone rock sheets in grassland (KwaZulu-Natal Sandstone Sourveld) just back from cliffs.

It is a very attractive plant in cultivation.