Crassula obovata var. dregeana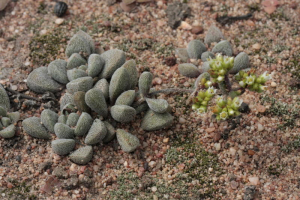 Observation - Crassula obovata var. dregeana - Southern Africa. Description: Plants locally common in very thin, sandy soils overlying Msikaba Formation sandstone rock sheets above the Mzimkulu River inland of Port Shepstone, KwaZulu-Natal. Growing together with C. obovata var. obovata. Crassula obovata var. obovata and var. dr
Plants locally common in very thin, sandy soils overlying Msikaba Formation sandstone rock sheets above the Mzimkulu River inland of Port Shepstone, KwaZulu-Natal.

Growing together with C. obovata var. obovata. Crassula obovata var. obovata and var. dregeana are sympatric at some other sites in the north of the Pondoland Centre such as inland of Margate. I'm not quite sure how two very different looking "varieties" grow side by side in the same habitat without evidence of intermediates. It is perhaps better to use the name Crassula dregeana Harv. for this taxon and not follow Toelken's approach.

Since posting this first note, I'm posting another photo of pressed material of Crassula obovata var. obovata (larger on left) and var. dregeana (smaller on right), as collected within metres of one another. These collections have been lodged at the KZN Herbarium as DGA Styles 4105 and 4106 respectively.

This image shows the problems with Toelken's treatment of these taxa, and in fact a number of other taxa he relegates to only varieties and subspecies. As someone with a general interest in plants, it strikes me that the standards of difference for recognizing taxa as species or not, as followed by most taxonomists who work other groups, are not in fact met in Toelken's Crassula treatment, much as I find the treatment very useful.
Main navigation