Tiny larva in gall on Helichrysum rugulosum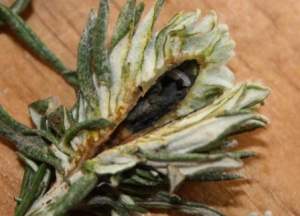 Observation - Tiny larva in gall on Helichrysum rugulosum - Southern Africa. Description: Initially I submitted these under http://www.ispot.org.za/node/169983, the main purpose was to identify the Helichrysum rugulosum. Not knowing what the green 'flower'-like structures were, Tony Rebelo suggested that I cut open one to investigate the p
Initially I submitted these under http://www.ispot.org.za/node/169983, the main purpose was to identify the Helichrysum rugulosum.

Not knowing what the green 'flower'-like structures were, Tony Rebelo suggested that I cut open one to investigate the presence of any insect activity, as it seemed probable to be a gall caused by insects.

I will keep the larva until it pupates and hopefully it will then hatch. Will report back in due time...

12/12/12 Due time has arrived... and I have attached the goggo that emerged from the pupa.
Main navigation