Gleichenia polypodioides dt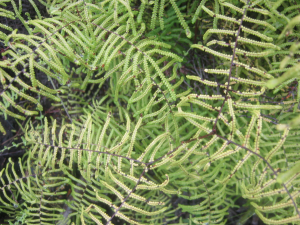 Observation - Gleichenia polypodioides dt - Southern Africa. Description: Rhizomatous perennial. Fronds widely spaced, falsely dichotomously branched with a terminal bud in each false dichotomy, all branches bearing foliar segments, pinnules linear, lobed. Sori partially immersed in lamina bearing 2--4 sporangia. This fern o
Rhizomatous perennial. Fronds widely spaced, falsely dichotomously branched with a terminal bud in each false dichotomy, all branches bearing foliar segments, pinnules linear, lobed. Sori partially immersed in lamina bearing 2--4 sporangia.

This fern occurs naturally in the Fynbos and is not invasive. The disturbed ground of Pine plantations sends it into a growing frenzy and it chokes adult Pine trees to death. Unfortunately, it takes everything else with it when it is in this mode.

For a while, I had an indigenous fern greenhouse. I was too frightened to introduce Gleichenia. When I consulted Prof Ted Schelpe, he said, "I challenge you to try and grow it." I never managed to do so.
Main navigation