Wahlenbergia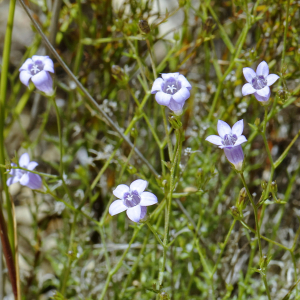 Observation - Wahlenbergia - Southern Africa. Description: Diminutive plant to 40cm with slender branching stems and small narrow pointed leaves only at lower portion of stem and at base. The delicate 5-lobed stigmas leads me to believe this is Wahlenbergia rather than Prismatocarpus or Roella which have flesh
Diminutive plant to 40cm with slender branching stems and small narrow pointed leaves only at lower portion of stem and at base.

The delicate 5-lobed stigmas leads me to believe this is Wahlenbergia rather than Prismatocarpus or Roella which have fleshy 2-lobed stigmas.

Stamens of Whalenbergia also withered at time of flowering none seen here.
Main navigation