Lumpy yellow lichen, Namaqualand - 2012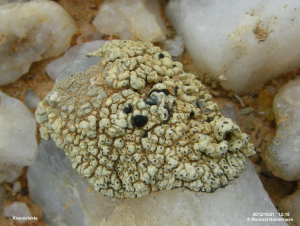 Observation - Lumpy yellow lichen, Namaqualand - 2012 - Southern Africa. Description: Growing on quartz pebbles in an arid area. Quite a few other lichens in the added pics. 2017: I've r
Growing on quartz pebbles in an arid area.
Quite a few other lichens in the added pics.
2017: I've rearranged the pictures to show the main one to compare with the WIRTH guide p83 - the last shot shows no apothecia, which may be significant.
,
LATEST ADDITION the Tag (TONINIA_all) although this may not be Toninia it will allow comparison with other Toninias.
TAXONOMY TERM = 9052
.
2020 : Tag added for the Project "My Namaqualand Experience - 2012"
Main navigation