Pineblight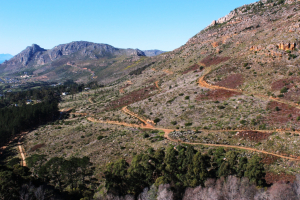 Observation - Pineblight - Southern Africa. Description: The compartment in the middle of this scene was planted with Pinus radiata from Karatara which was found to be heavily infested with Pine Blight. It was summarily cut down and left. Surprisingly it was not burned to get rid of any spores, but burning th
The compartment in the middle of this scene was planted with Pinus radiata from Karatara which was found to be heavily infested with Pine Blight. It was summarily cut down and left. Surprisingly it was not burned to get rid of any spores, but burning these slopes would probably have burned out some other pine blocks, possibly explaining this. It is amazing how fast the trees have rotted,although there is still lots of slash amid the grasses.

So pine blight is here now! Along with Sirex Wood Wasp and other insects, this is set to make growing pines in the Cape even more difficult and less economical.

A pity Pine Blight only attacks Pinus radiata - we desperately need a biocontrol for Pinus pinaster Cluster Pine.
Main navigation