Cylindrophyllum calamiforme (syn. C. dyeri)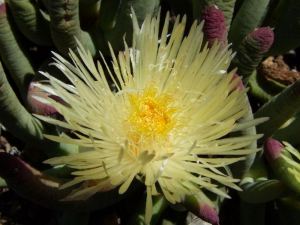 Observation - Cylindrophyllum calamiforme (syn. C. dyeri) - Southern Africa. Description: Cylindrophyllum calamiforme (syn. C. dyeri): C. dyeri (...). Forming dense cushions. Leaves erect to inclined centrally. Flowers to 40 mm in diameter, whitish to straw coloured, or pale pink with darker yellowish outer rim. Flowering time: Spring (Oct
Cylindrophyllum calamiforme (syn. C. dyeri):

"C. dyeri (...). Forming dense cushions. Leaves erect to inclined centrally. Flowers to 40 mm in diameter, whitish to straw coloured, or pale pink with darker yellowish outer rim. Flowering time: Spring (October/November)".

Van Jaarsveld, E.J. & de Villiers Pienaar, U.
Vygies: Gems of the Veld.
Main navigation