Christmas Beetles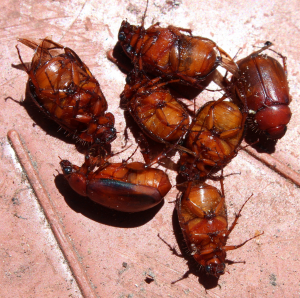 Observation - Christmas Beetles - Southern Africa. Description: It was full moon last night and an unprecedented number of Christmas Beetles - 13! - ended up in the pool overnight. Some 2-3 is normal, but this many is exceptional and I am speculating that it has to do with the moon. This observation is interesting
It was full moon last night and an unprecedented number of Christmas Beetles - 13! - ended up in the pool overnight. Some 2-3 is normal, but this many is exceptional and I am speculating that it has to do with the moon.

This observation is interesting as earlier in the week on CapeTalk567 John Maytham requested information on why Xmas beetles were not as common as they used to be. Which raised the issue of which Xmas Beetle? The Cicada, this chappie or something else (the Red Driver Ant, for instance) - Just google "Christmas Beetle South Africa" to get a taste of the discussion and see http://answerit.news24.com/Question/Are%20there%20still%20Christmas%20Beetles%20in%20South%20Africa?/44396 for an overview of how people dont even talk about the same thing.

Clearly they are still around, but my real question is: why did they end up in the pool - using the reflection of the full moon to navigate and crash landing? Trying to visit a flower in the water?

What do they do? Feed on flowers at night? Why - what do they do daytime?

Sadly they were all dead, one looked as if it moved but it was probably just drying out or rigor mortis because it never moved again. The two Adoretus (see http://za.ispot.org.uk/node/143774) that were also in the pool recovered and flew off: presumably they did not spend all night in the pool.
Main navigation