My Microscopy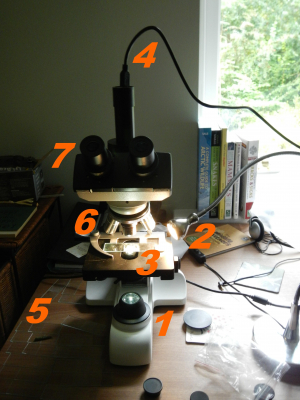 My Microscopy - Global : Just a small project collecting my observations which include microscopic photos and my microscope setup. My microscope is quite cheap (for a microscope), but produces really clear images. I was lucky with my purchase as I went to meet the founder of
Just a small project collecting my observations which include microscopic photos and my microscope setup.

My microscope is quite cheap (for a microscope), but produces really clear images. I was lucky with my purchase as I went to meet the founder of Brunel Microscopes (the company I got the microscope from) to discuss which microscope would be best for me on the way to my trip to Wales. He was able to recommend a new one which wasn't even on their website and had everything I needed!

My setup is quite basic, see photo 1.
1 = LED Light. This illuminates small items which are translucent.
2 = IKEA desk lamp. This illuminates opaque items which can't be seen in detail through the eyepiece as light can't travel up the lens.
3 = Where I put the slides!
4 = The microscope camera. This is fitted into a metal adapter which fits into the top of the microscope. The wire then sends the image to the computer so that I can take photos, measure spores etc.
5 = These are the used slides which are waiting to be wiped clean and reused.
6 = The objective lenses. I have 4x, 10x, 40x and 100x (100x uses immersion oil to function properly, see https://en.wikipedia.org/wiki/Oil_immersion).
7 = The eyepieces. Mine are 10x, so coupled with the objectives I can see stuff at 40x, 100x, 400x (the one I use most) and 1000x.

The camera software on my computer that I use is called ToupView. It allows you to measure, take photos and videos as well as a tonne of other stuff that I don't need!
01 Sep 2015
jimmymac2
Main navigation