Protea Flowers per Head Survey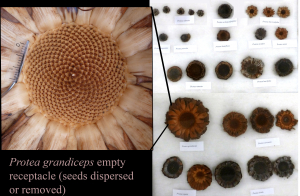 Protea Flowers per Head Survey - Global : Flower head size varies incredibly in the genus Protea. The smallest-blossomed species pack only 50 flowers per head, whereas the champion for blossom size, P. cryophila, will often exceed 1000! Although certain Protea species have been counted extensi
Flower head size varies incredibly in the genus Protea. The smallest-blossomed species pack only 50 flowers per head, whereas the champion for blossom size, P. cryophila, will often exceed 1000!

Although certain Protea species have been counted extensively, some species, to our knowledge, have never been counted at all! We're enlisting your help to remedy the lack of species-level data and also document the extent of within-species variation.

We think that blossom size variation may coincide neatly with differences in growth form, leaf size, pollinator type or environment. But until we know where each species sits on this spectrum, we can't test these ideas completely.

So as you encounter and photograph Protea plants, please also photograph their empty seed head bases. Upload these images with your ispot observation and include the tag "Protea Flowers per Head Survey". The photos that work best are close up and facing down on an empty receptacle, like the photos included here. You can submit a single photo per locality, although photographs of 3 or more plants would allow us to better account for natural variation.

Here is a list of our most-needed species, although photos of all Protea species are welcome:

Protea pudens
Protea inopina
Protea holoseriacea
Protea stokei
Protea aspera
Protea laevis
Protea foliosa
Protea convexa
Protea pityphylla
Protea revoluta
Protea restionifolia
Protea caespitosa
18 Feb 2015
_Jane
Main navigation