Spanish moss growing on Mahogany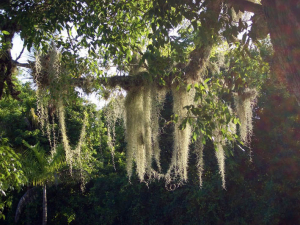 Observation - Spanish moss growing on Mahogany - Global. Description: Spanish moss (Tillandsia usneoides) Bromeliads - Bromeliaceae This is a true flowering plant (not a moss) that grows on trees. It resembles the lichen Old Man's Beard or Treemoss (scientific name: Usnea), which is found all over t
Spanish moss (Tillandsia usneoides)
Bromeliads - Bromeliaceae
This is a true flowering plant (not a moss) that grows on trees. It resembles the lichen "Old Man's Beard" or "Treemoss" (scientific name: Usnea), which is found all over the world including the UK.
Spanish moss is described as a gray beard hanging from the branches of the tree. When it is big it looks more like long frizzy (grayish) hair.
The tree in the photos is a West Indian Mahogany (Swietenia mahagoni, Fam. Meliaceae).
Main navigation