Blackspotted Sweetlips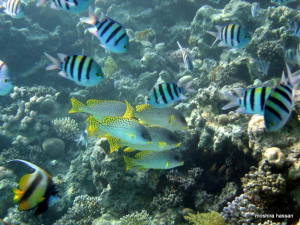 Observation - Blackspotted Sweetlips - Global. Description: Blackspotted Sweetlips Sweetlips - Haemulidae (Grunts) This species cannot be mistaken for any other species of seetlips in the Indi-Pacific or Atlantic. The yellow fleshy lips are very conspicuous and typical of several species. In this species they st
Blackspotted Sweetlips
Sweetlips - Haemulidae (Grunts)
This species cannot be mistaken for any other species of seetlips in the Indi-Pacific or Atlantic. The yellow fleshy lips are very conspicuous and typical of several species. In this species they stand out particularly well, because the rest of the face is largely free of any patterns.
The pattern of black spots, and the yellow color of fins and back are distinctive. What is most clear is the absence of any black stripes in the adults.
The fish can occur individually, but are usually found in groups, often under overhangs and table corals.
The fish in these photos are about 35cm long (species can reach 45cm).
Main navigation