Longnose Parrotfish-2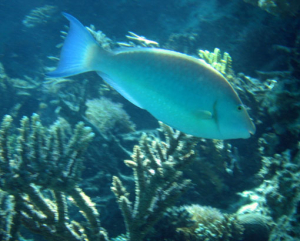 Observation - Longnose Parrotfish-2 - Global. Description: Indian Ocean Longnose parrotfish Parrotfish - Scaridae The long nose is distinctive. The fish is usually found over sand near corals and very pale colored. It changes to slightly more intense colors (see photo) when it is among corals. It can have
Indian Ocean Longnose parrotfish
Parrotfish - Scaridae
The long nose is distinctive.
The fish is usually found over sand near corals and very pale colored. It changes to slightly more intense colors (see photo) when it is among corals.
It can have an orange band across the cheek, which is however not visible when it is pale.
The yellow of the pectoral fins is barely recognizably on this photo.
The caudal (tail) fin has long lobes; look closely and you will see that thin "threads" extend beyond the obvious lobes in this photo.
The fish in this photo is about 35cm long (species can reach 45cm).
Main navigation