Desert plants - Deverra triradiata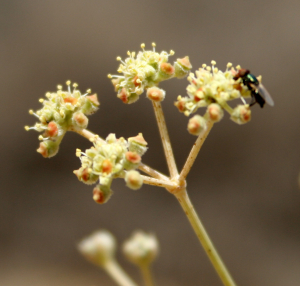 Observation - Desert plants - Deverra triradiata - Global. Description: Umbelliferae - Apiaceae The branches, especially the lower branches of this plant are comparatively straight and hang down. The first photo shows flowers with female reproductive organs. Each flower has a pair of white filament l
Umbelliferae - Apiaceae

The branches, especially the lower branches of this plant are comparatively "straight" and hang down.
The first photo shows flowers with female reproductive organs. Each flower has a pair of white filament like structures with red tips: these are the "styles", which emerge from the "stylopodium".
The close-up shows both male and female reproductive organs. The stalks with the yellow tips are the male parts (filament with the yellow anthers). No female "styles" are visible on this specimen, only the red stylopodia.

Compare also D. tortuosa.
Photos taken in June 2007 and June 2008.
Main navigation