A Celebration of Ross-Craig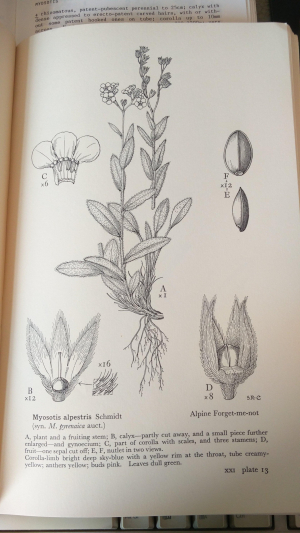 Observation - A Celebration of Ross-Craig - Global. Description: Stella Ross Craig This post in to commemorate Stella Ross-Craig 1906 – 2006. . Ross-Craig was a bot
Stella Ross Craig
This post in to commemorate Stella Ross-Craig 1906 – 2006.
.
Ross-Craig was a botanical artist whose Drawings of British Plants is, to my mind, unsurpassed.
.
The work, comprising 31 volumes, was described by Edward Salisbury, (Kew 1943 to 1956). " Miss Ross-Craig's representations are a happy combination of artistic portraiture and scientific accuracy."
.
Ross-Craig often drew from preserved dried specimens kept at Kew, and she worked in black and white.
.
The first photo of this post is Myosotis alpestris Schmidt, from Ross-Craig* chosen to support another recent iSpot post by which has gathered comments.
https://www.ispotnature.org/communities/global/view/observation/816805/alpine-flowers-3
.
High level alpine Myosotis species, specifically M alpestris and M. alpina, may be relics from the ice age. Stace has the British M. alpestris as "Native; mountain slopes and ledges, 700-1200m; very local."
.
The two species are, in current flora, readily distinguished (hand lens) by details of hairs on the calyx and leaves.
.
However, there has been some nomenclature changes over the years with several similar names may have been allocated to these populations in western Europe.
.
.
M. alpestris is listed in the Pyrénées according to Saule, La Flore des Pyrénées.
http://www.lafloredespyrenees.fr/boraginacgenres/myosotisalpes/myosotisalpes5.html
.
My own records show I have identified M. alpestris in French Vanoise, Dolomites, Switzerland and Andorra; unfortunaely I have no photo.
I have no personal record of M. alpina.
.
Ref * Ross-Craig, S., (1965) Drawings of British Plants. Part XX1.Bell, G & Sons, London. This is where I have placed the post location, hoping to relocate later to my own record in Andorra. We will see if this 'trick', given to me by dejay, works.
Main navigation