Boreholes in a rotten tree stump, in the Mili Gorge, near Rethymno, Crete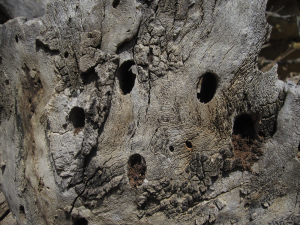 Observation - Boreholes in a rotten tree stump, in the Mili Gorge, near Rethymno, Crete . Description: What made these holes? Could it have been a carpenter bee? I've never seen one actually in the gorge, but they certainly occur in the surrounding area. The holes are about 2.5cm long and made in what is now a rotten tree stump. Would they originally
What made these holes? Could it have been a carpenter bee? I've never seen one actually in the gorge, but they certainly occur in the surrounding area.
The holes are about 2.5cm long and made in what is now a rotten tree stump. Would they originally have been made in living or dead wood?
Does the material partially blocking some of the holes indicate that they are still in use?