Small yellow umbel with fleshy leaves, Samos, Greece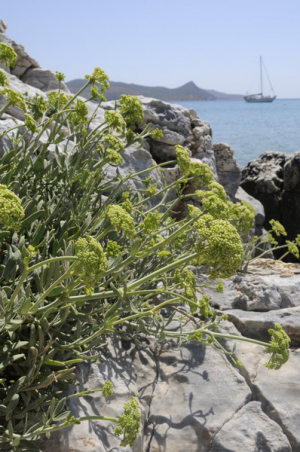 Observation - Small yellow umbel with fleshy leaves, Samos, Greece - Global. Description: Can anyone ID this plant which was common growing on rocks very close to the sea around the shores of Samos, Greece (just off the coast of Turkey)? To me, the flowers and umbel form look very similar to Alexanders, Smyrnium olusatrum, but the leaves are
Can anyone ID this plant which was common growing on rocks very close to the sea around the shores of Samos, Greece (just off the coast of Turkey)? To me, the flowers and umbel form look very similar to Alexanders, Smyrnium olusatrum, but the leaves are very different - much more lanceolate and very fleshy. They don't match S. rotundifolium / perfoliatum leaves either, the only other species of this genus I can find, so suspect it's something else.

The tiny flowers attracted many kinds of wasp and bee fly and this colourful assassin bug Rhynocoris sp. was hunting on them.

The plant grew in clumps up to about 12-18 inches high.
Main navigation