Pretty in Pink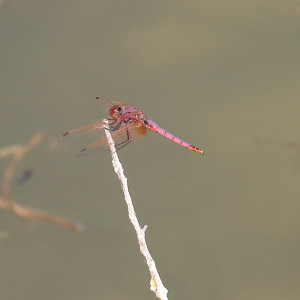 Observation - Pretty in Pink - Global. Description: It's that farm site in southern France again. While I was engaged trying to help another pair of campers solve an electrical issue, my lucky wife spotted what looked like a Scarlet Darter but was pink. Trick of the light, she thought. No, this just h
It's that farm site in southern France again. While I was engaged trying to help another pair of campers solve an electrical issue, my lucky wife spotted "what looked like a Scarlet Darter but was pink". Trick of the light, she thought.

No, this just has to be a Violet-marked Darter - or Violent Dropwing, as I'm told Dave Smallshire calls it :D - and it must be right on the edge of the range shown in Dijkstra/Lewington.

AND I MISSED SEEING IT!! (Weep, sob, sob.) We never saw one again.
Main navigation