Difficult Male Demoiselle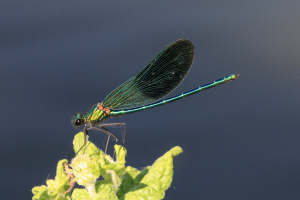 Observation - Difficult Male Demoiselle - Global. Description: At our favourite farmer's irrigation lake in the south of France, we spotted several demoiselles this year. (Not running water - curious - though the surface was usually rippled by wind.) The location is at best on the south-western limit of the Banded
At our favourite farmer's irrigation lake in the south of France, we spotted several demoiselles this year. (Not running water - curious - though the surface was usually rippled by wind.)

The location is at best on the south-western limit of the Banded Demoiselles's range (Djikstra/Lewington) and is probably beyond it. The males had colouration right up to the wing tips and down to or just beyond the wing node.

No tail-light shots, I'm afraid but, given the location, I'm wondering about C xanthosotoma which Djikstra/Lewington has a separate species and are previously beyond my experience?

I'll post a female, too.
Main navigation