Whale in the north sea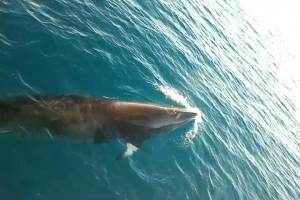 Observation - Whale in the north sea. Description: We saw this on a trip to Norway last week, seen first in the distance then they came in and played around the yacht for about 45 minutes, going under and around us, and surfacing regularly. It appears to large for a dolphin probably around 4+ meters,plu
We saw this on a trip to Norway last week, seen first in the distance then they came in and played around the yacht for about 45 minutes, going under and around us, and surfacing regularly.
It appears to large for a dolphin probably around 4+ meters,plus I have never seen a dolphin with such a pointed snout.
There were (we think) two of them but we only saw them one at a time, however there did seem to be one a fair bit bigger then the other.
When it swam along side it would turn onto its side so we could see it had a white underside along with the white band on each flipper (which Minke usually have).
Based on the bands on its flippers, and small size I would say it was a Minke, however it does appear to be slightly sleeker than a Minke, which (I think) are more bulky.
Also although you could hear it blow, there was nothing to sea in terms of a plume or anything.