Vestigially winged fly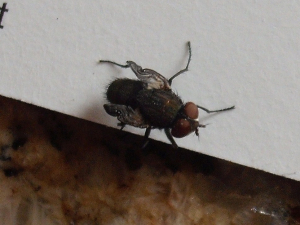 Observation - Vestigially winged fly. Description: Apparently a house fly with vestigial wings. The photo shows a single (same) specimen and is approximately 6mm long (eyes to tail). This is one of hundreds I have seen in my garden; since they are rapidly consumed by birds I assume that they are being pr
Apparently a house fly with vestigial wings.
The photo shows a single (same) specimen and is approximately 6mm long (eyes to tail). This is one of hundreds I have seen in my garden; since they are rapidly consumed by birds I assume that they are being produced by some other means than self propogation!
They walk at about 30mm per second.