Water Scorpion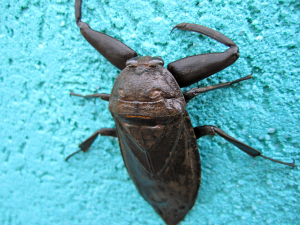 Observation - Water Scorpion - Global. Description: I've been informed that this is a "water scorpion" – it hangs upside down in the water column, with its butt sticking out of the water, and breaths air through its ass (pretty cool!) I photographed it on a slightly damp wall on a building over the
I've been informed that this is a "water scorpion" – it hangs upside down in the water column, with its butt sticking out of the water, and breaths air through its ass (pretty cool!)
I photographed it on a slightly damp wall on a building over the road from the vegetation just in front of the sea at Bodden Town, Grand Cayman, Cayman Islands. Second pic shows how large the creature appears to be (approx. 2 1/2" long.)
Beautiful 'face mask' markings on back, looks like evil, grinning face.
Main navigation