Scary purple spider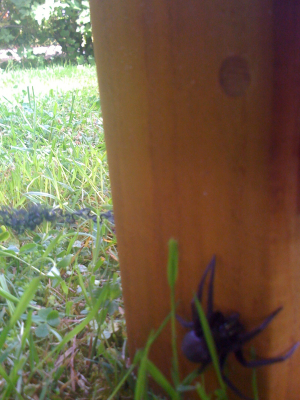 Observation - Scary purple spider. Description: Sadly, these pictures were taken with my phone and I didn't realise that it could not focus this close, so they are all blurred. The spider in question surprised myself and my petrified little boy, when it appeared from underneath the tarpaulin cover w
Sadly, these pictures were taken with my phone and I didn't realise that it could not focus this close, so they are all blurred.

The spider in question surprised myself and my petrified little boy, when it appeared from underneath the tarpaulin cover we use for our garden table.

We live in Normandy, by the Seine. The spider was quite large compared to spiders we have seen here before, with a very bulbous body. The colour was most striking. Not as 'bright/saturated' as it appears in the photos, but definitely purple/mauve. I have searched the net before and found nothing. I wonder if it was a summer traveller. We are quite some distance from any supermarkets, but there is a farmer's market twice a week about 6 or 700 meters away.

My little boy wouldn't walk barefoot in the garden for over a year afterwards.