Leafcutter Ants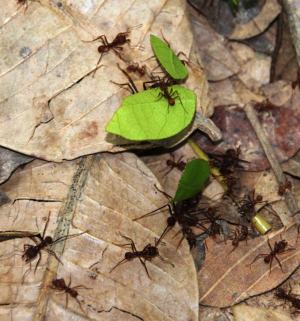 Observation - Leafcutter Ants - Global. Description: Our guide knew about these and showed us the lazy ants being carried on the leaves. He did not seem though to know about research showing that the carried ants are not lazy but essential to protect working ants from being invested with a parasitic larva
Our guide knew about these and showed us the lazy ants being carried on the leaves.
He did not seem though to know about research showing that the carried ants are not lazy but essential to protect working ants from being invested with a parasitic larva by a wasp. The ant-with-leaf cannot protect itself, but the ant-on-leaf is able to protect several ants from the wasp.

The leaves are taken underground to the fungus farms where they are converted to food.
Main navigation