Montpelier Rock-rose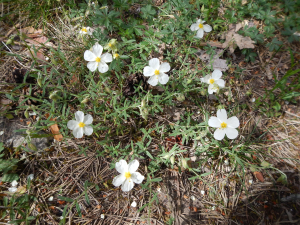 Observation - Montpelier Rock-rose - Global. Description: Narrow, wrinkled leaves with pronounced central vein. White flowers with 5 petals and a yellow centre. Rather appropriately spotted on the rocky ground of Montpellier-le-Vieux. Also known as Narrow-leaved Cistus. I have just had to rename all my photos
Narrow, wrinkled leaves with pronounced central vein. White flowers with 5 petals and a yellow centre. Rather appropriately spotted on the rocky ground of Montpellier-le-Vieux.
Also known as Narrow-leaved Cistus.
I have just had to rename all my photos because it seems that the second "l" is left out of Montpelier in the name of the plant.
Main navigation