Mycena maculata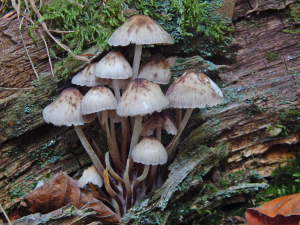 Observation - Mycena maculata - Global. Description: Pale grey caps covered in brown, rusty spots. Pale pink/white gills covered with the same coloured spots. Tough, smooth stipe covered in wooly white fibrills at the base, becoming red brown below the apex. Irregular shaped cheilocystidia with long wavy
Pale grey caps covered in brown, rusty spots.
Pale pink/white gills covered with the same coloured spots.
Tough, smooth stipe covered in wooly white fibrills at the base, becoming red brown below the apex.
Irregular shaped cheilocystidia with long wavy projections.
Stipe hyphae divericulate.
Pileipellis hyphae mostly smooth but a few had cylindrical projections.
Spores pip shaped/ellipsoid, amyloid. 8-10 x 5-6 microns.
Main navigation