No idea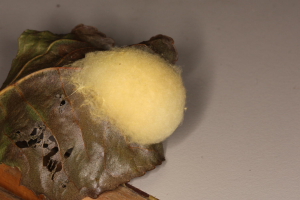 Observation - No idea - Global. Description: This had several of us scratching our heads. On a leaf of White Poplar (Populus alba) or Grey Poplar (Populus alba x tremula = P. x canescens). The damage on the other side of the leaf does not seem to obviously correspond with the mass. This was
This had several of us scratching our heads.

On a leaf of White Poplar (Populus alba) or Grey Poplar (Populus alba x tremula = P. x canescens).

The damage on the other side of the leaf does not seem to obviously correspond with the mass.

This was retained and a large number of small wasps(?) emerged on 22nd September.

Most of the critters were still active on 28th September. I opened up the mass and found a white silky mass inside. Opening that did not seem to show any sign of the host (probably all consumed).

This has now been identified for me by an expert (see below) as Cotesia ofella (Nixon). It is a regular parasitoid of Acronicta rumicis (I have recorded it from this species at Perivale Wood), and elsewhere in Europe is known from other low-feeding Acronicta such as A. auricoma. There are also records of this reared from Spilosoma spp. Thanks to Mark Shaw for the information.
Main navigation