Rubbery flesh-type fungi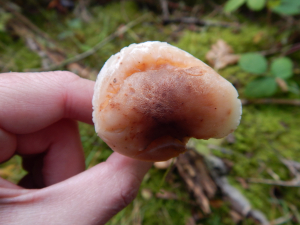 Observation - Rubbery flesh-type fungi - Global. Description: Found in mixed woodland (mostly fir). Smelled sweet and peppery, tasted of nothing much. Felt hard and rubbery to the touch. Reminded me of 'halloween' style rubbery fake skin to feel and look at. Images 0691 & 0692 were found in a different part of t
Found in mixed woodland (mostly fir). Smelled sweet and peppery, tasted of nothing much. Felt hard and rubbery to the touch. Reminded me of 'halloween' style rubbery fake skin to feel and look at.
Images 0691 & 0692 were found in a different part of the wood, but I think they might be the same fungi...
Look's like the second lot have split in a particular way which may give clues to its ID?
Main navigation