Common Lizard With Two Tails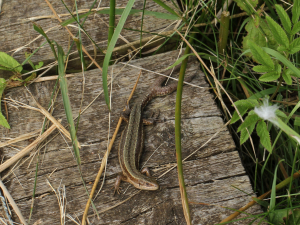 Observation - Common Lizard With Two Tails - Global. Description: This common lizard has two tails. I think that the probable cause is tail damage. When Common Lizards are attacked they sometimes release their tails to the predator. A new tail grows in its place (not a perfect replacement, but not bad). In this in
This common lizard has two tails. I think that the probable cause is tail damage.
When Common Lizards are attacked they sometimes release their tails to the predator. A new tail grows in its place (not a perfect replacement, but not bad).
In this instance I think that the original tail was not fully severed, but the regrowth was triggered.
Could be wrong, but I can't think of anything else. I don't think it's a mutation.
Main navigation