Mynydd y Gaer 30aug2014 plus 004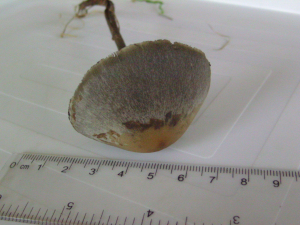 Observation - Mynydd y Gaer 30aug2014 plus 004 - Global. Description: On unimproved pasture with plenty of mainly sheep dung. Cap 4.5cm dull brown striated in parts. Umbonate with margin slightly serrated. Gills regular fairly close dark brown/black. Stem 15cm x 4mm stiff erect dark brown with base off white slightly fib
On unimproved pasture with plenty of mainly sheep dung.
Cap 4.5cm dull brown striated in parts. Umbonate with margin slightly serrated.
Gills regular fairly close dark brown/black.
Stem 15cm x 4mm stiff erect dark brown with base off white slightly fibrous to base slightly fibrous and hollow.
Section thin flesh gills dark brown/black.
Spore print black.
Main navigation