Entoloma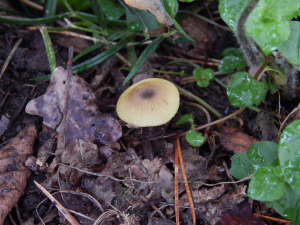 Observation - Entoloma - Global. Description: Very small Entoloma found growing on the ground in mixed woodland. Yellow/brown cap, 1.5 cm. Yellow gills Brown stem. No obvious cheilocystidia seen. Pink spores, very angular. 9-12 x 6-8 microns. I was thinking of Entoloma incanum but there was no
Very small Entoloma found growing on the ground in mixed woodland.
Yellow/brown cap, 1.5 cm.
Yellow gills
Brown stem.
No obvious cheilocystidia seen.
Pink spores, very angular. 9-12 x 6-8 microns.
I was thinking of Entoloma incanum but there was no obvious scent of 'mouse pee/mice' and no vivid green seen when I bruised it.
Main navigation