Quinoa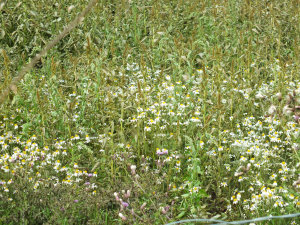 Observation - Quinoa - Global. Description: Growing in the corner of a potato field. I believe that the field has been sprayed with sulphuric acid to kill off the potato haulms prior to harvesting, and that this has affected the weeds in the field as well. Large infructesence; shape of leaves ma
Growing in the corner of a potato field. I believe that the field has been sprayed with sulphuric acid to kill off the potato haulms prior to harvesting, and that this has affected the weeds in the field as well.

Large infructesence; shape of leaves matches Chenopodium quinoa rather than Amaranthus viridis (a quick google doesn't find any other Amaranthus species with potentially confusing leaves).

Growing mixed with creeping thistle, a mayweed, and another Chenopodium; unlike the previous times I saw this not obviously a game crop.
Main navigation