Unknown butterfly species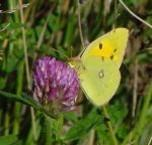 Observation - Unknown butterfly species - Global. Description: The butterfly was about the same size as a large white, and shaped like one too, which gave me thought that it is probably from the white family. The forewing is bordered with lime green, becoming thicker from the wingtip onwards. The middle of the forewi
The butterfly was about the same size as a large white, and shaped like one too, which gave me thought that it is probably from the white family. The forewing is bordered with lime green, becoming thicker from the wingtip onwards. The middle of the forewing is coloured in orange, with a black spot on the upper centre of the wing.
The hind wing is completely covered in green, except from a perfectly formed dot in the centre. The head seemed a dusty brown colour; the face a bright green.
It seemed a lousy, weak flying insect - perhaps coming to the end of its life.
Main navigation